The Association for Mineral Exploration (AME) held its annual Roundup conference in Vancouver, BC in 2023, which was attended by over 5,800 delegates from 39 countries. The event featured an exhibition hall with over 300 different entities showcasing their booths. Burgex Mining Consultants were proud to participate as sponsors and exhibitors at the event. The company looks forward to this annual pilgrimage to AME Roundup. The Burgex team was led by CEO Chris Summers and included Bill Schnieders, Jenny Deems, and co-founders Stuart Burgess and Crystal Burgess.

The AME Roundup conference is a premier event for the mining and mineral exploration industry, held annually in Vancouver, Canada. It brings together professionals from around the world to discuss the latest advancements and technologies in mining, as well as current industry trends and challenges. The conference features keynote speeches, panel discussions, technical sessions, and networking events, providing a comprehensive forum for industry leaders to share their knowledge and experience. Attendees have the opportunity to gain insights from experts in the field, make valuable connections with other professionals, and stay up to date on the latest developments in the mining and mineral exploration industry. The conference also features an exhibition of the latest mining equipment and technologies, providing attendees with a hands-on look at the latest innovations in the field.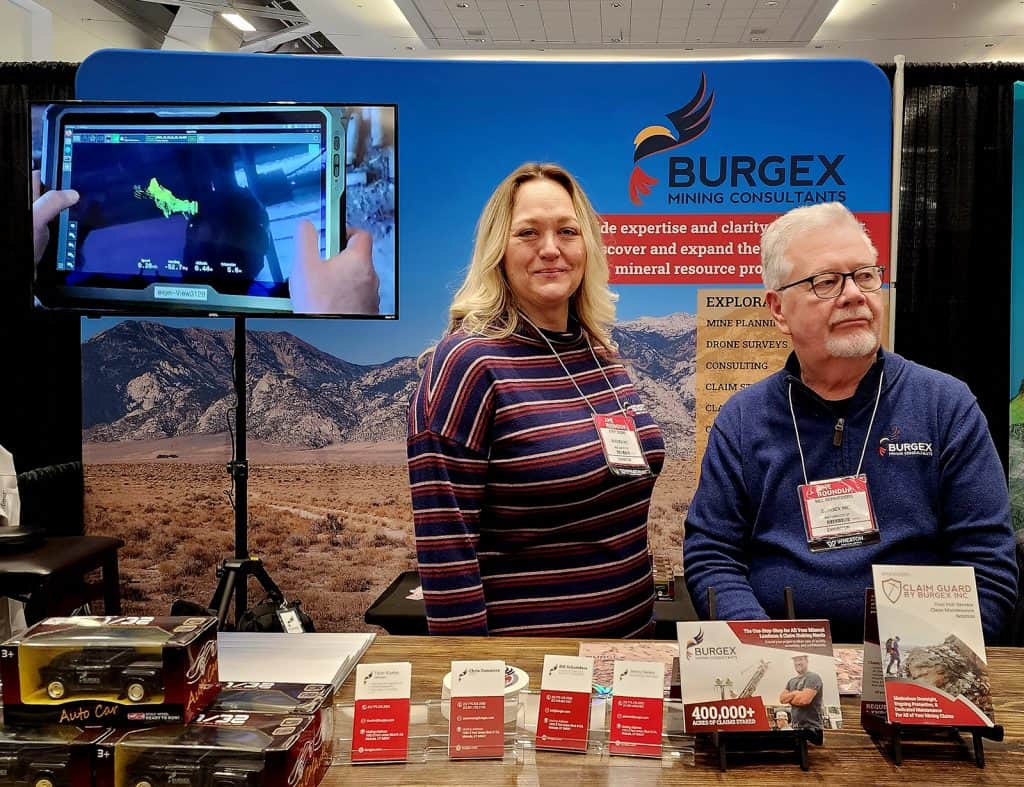 The AME Roundup conference provided a valuable opportunity for Burgex Mining Consultants to connect with both existing clients and potential new clients in the mining industry. The conference brought together a diverse group of professionals from around the world, providing a platform for networking and business development. Burgex took advantage of this opportunity to meet with many of its existing clients, both those based in Canada and internationally. This provided a chance to strengthen existing relationships, discuss current projects, and explore new opportunities for collaboration. Additionally, the conference presented an opportunity for Burgex to expand its client base by meeting and networking with a wide range of prospective clients from the mining industry. The company was able to showcase its expertise and services and explore potential business opportunities with these new contacts. Overall, the AME Roundup conference proved to be a valuable platform for Burgex to connect with its existing and prospective clients in the mining industry and grow its business.
Conference themes, for those tuned into the industry, will not come as a surprise. They focused along the lines of developing critical battery and electrification minerals, overcoming ESG & NIMBY (not it my backyard) challenges, and working with stakeholders of all types towards reconciliation. Optimism among participates was good and on some fronts there were some very positive conference moments. Cassie Boggs, Chairperson & Board Member of Hecla Mining gave a keynote wherein she noted that with 40-years' experience in the mining industry, she believes that everything is aligned now for a booming mining sector. Seeing this sort of optimism from such an industry veteran is an encouraging sign for an industry that has suffered numerous setbacks and headwinds over the past decade. 
The themes of the AME Roundup conference were focused on developing critical battery and electrification minerals, addressing environmental, social, and governance (ESG) and "not in my backyard" (NIMBY) challenges, and working towards reconciliation with various stakeholders. Overall, there was a sense of optimism among the conference attendees, with some particularly positive moments throughout the event. One noteworthy moment was the keynote speech by Cassie Boggs, Chairperson and Board Member of Hecla Mining, who noted that with her 40 years of experience in the industry, she believes that everything is aligned for a strong growth in the mining sector. This optimism from an industry veteran is a positive sign for an industry that has faced several challenges and setbacks in the past decade. Boggs also highlighted that "This is the first time in 40 years where I've seen such an encouraging environment where the world has acknowledged we need mining – governments, civil society have acknowledged that we need mining to meet our climate change goals. This is going to be the decade of mining."
In conclusion, AME Roundup conference was a resounding success, bringing together over 5,800 delegates from 39 countries to discuss the latest advancements and technologies in mining, as well as current industry trends and challenges. Burgex Mining Consultants, who participated as sponsors and exhibitors, took advantage of the opportunity to connect with existing and potential clients, strengthening existing relationships and exploring new opportunities for collaboration. Burgex is proud to have participated in the conference and looks forward to being a critical component in advancing this next exciting "decade of mining."